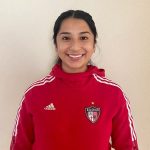 Head Coach of the 2013 Rangers
Hello, my name is Yasmine Angel and I am a proud Atletico Santa Rosa alumni. I am the current Head Coach of the 2013 Rangers, Assistant Coach of the 2014/2015 Red Stars and  now the College Advisor for all Atletico teams. 
With the help of coaches at Atletico, I was able to receive an athletic scholarship at Dominican University of California, where I received my Undergraduate Degree in Business Administration with a concentration in Management and a Minor in Spanish and Leadership Studies. A year after graduating, I decided to go back to Dominican University and earn my Masters in Business Administration. During this time I had become a coach at Atletico for the 2013 girls. Being a product of the girls program at Atletico, it has been great to become part of the coaching staff and help continue the growth of the girls program. I have enjoyed my time with my team and I am excited to help the rest of the club further their education by providing resources and guidance.
Being a First-Generation College Attendee in my family, I understand the struggles and frustrations that come along in the application process. I want to provide resources and any possible guidance to the kids of Atletico and get them the future that they have worked for and deserve.