Pre-Academy through U18 Programs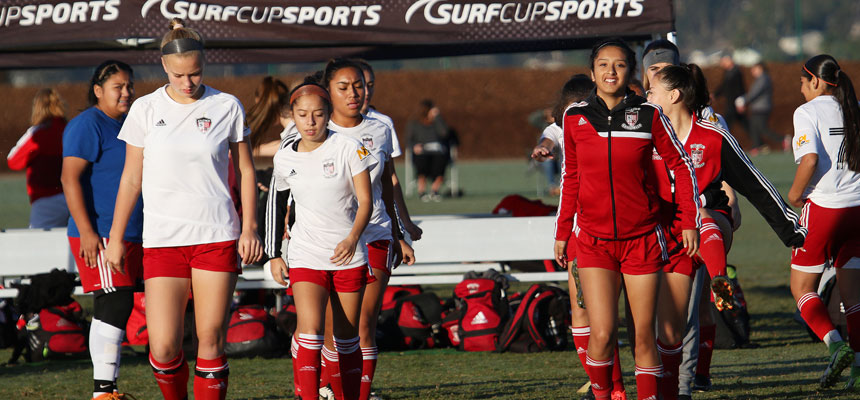 The foundation for Atletico's planned player development is a solid curriculum with training sessions designed for appropriate age groups. Our training sessions and playing environment are of the highest quality and that's where we believe true player development occurs.
We maintain an environment that is consistent, with a clear vision of what lies ahead for our players so their development is maximized. Our curriculum consist's of the four components of soccer that include technical, tactical, psychological, and physical aspects which are used to develop player performance.
The club offers a competitive training atmosphere for players Pre-Academy through U18. The training sessions cover a wide range of topics such as speed of play, individual and group defending, attacking in the final third, and decision making with and without the ball.
The ASR Staff will improve players 1st touch, teach a wide variety of techniques and encourage confidence and creativity on the ball. Players at Atletico are provided with the best opportunity to achieve their potential as elite soccer players empowering them to turn dreams into goals.
We are committed to giving back to the community through soccer. Our teaching methodology encourages young players to recognize and strive for their dreams. The Atlético methodology was conceived with the major objective of using the practice of soccer for the development, cultivation and education of children and youth which includes the following concepts:
Adeptness/Skill
Education
Adaptation
Healthy Lifestyle
Positioning
Ambition
Independence
Mindset
Ethics
Discipline
ATLETICO GOALKEEPER PROGRAM
For Goalkeepers (Ages 8-19) – Goalkeepers train focusing on the four major components of goalkeeping: technical, tactical, psychological and physical training. Atletico goalkeeper training sessions are challenging and fast-paced to replicate in-game situations.
Atletico Santa Rosa has one of the top Goalkeeper programs in Northern California. This project was founded to create competitive Goalkeepers in the Northern California area and to keep their athletic skills in the best possible condition to compete at the USA National level as well as the local club team level. It is the fundamental objective of this project to create an ongoing program that will improve the competitive level of every goalkeeper trained by this organization. We have brought together the best professional and well trained community members possible in the Sonoma County area to implement this program.
Because a strong soccer team starts with an excellent goalie, it is Atletico's philosophy to develop players with all the physical, technical, physiological, and tactical skills needed to compete at the highest level possible in the athletic arena. It is also our goal to develop an excellent sense of community in our student players by teaching and instilling in them the basic values and morals that lead to a successful and dignified life on and off the soccer field.
Atletico Santa Rosa offers a program that has continuity from the very beginning stages through the tactical stage allowing the player to develop continually to form a solid foundation. The training and learning process that we propose in this project begins with the child and will follow a basic stage developmental program aimed at encouraging athletic, social, and moral values as well as improving the specific needs and skills of a goalkeeper. This program will develop these skills based on the individual's skill level and expected potential.
This program will develop an individual's athletic talents through the following means:
Acquire the basic knowledge of body coordination needed to play the specific and specialized position of Goalkeeper through a repetition of technical skills advancing from basic movements of Goalkeeper to more advanced techniques needed to compete at a higher level.
To understand and be able to execute the rules and fundamental strategies of the position of Goalkeeper.
To learn specific techniques and theories needed to play Goalkeeper at a top notch level.
To be able to move and coordinate the body in such a manner as to play at the highest level of the sport.
Will learn sportsmanship and a sense of fair play through interaction with the competition and be able to interact with fellow players in a competitive yet fair manner.
Diving saves
(Low, middle and high balls)
Breakaway saves (1vs.1)
Distribution
Goal Kicks, drop kicks, punts, throwing
Catching
Shot saving
Redirecting
Deflecting
Crossing
Boxing
Positioning (angle of play)
Reflexes/reactions
Stance & parrying
Ball mastering
Diving saves
Organizing the defense
Breakaway Save
Pass back situation
Angle play and positioning
Restarts (setting up walls)
Reading the game
Communication
Starting positions
Decision making
Knowledge of laws of the game
Initiating attacks and counterattack
Establishing time
Sweeper-Keeper tactics
Reading the attack/anticipation
Knowledge of defender roles
1st, 2nd, and 3rd defender)
Leadership
Communication
Confidence
Self control
Courage
Training Ethics Habits
Attitude
Coachable
Motivate
Dealing with Pressure (Success & Failure)
Consistency
Positive Projection
Maturity & Poise
Self Analysis
Focus
Mental Stimulation
Hard worker
Flexibility & Coordination
Proper Warm-up
Effective Cool-down
Footwork Mobility
Strength & Agility
Pressure Training
Conditioning
Vertical / lateral jumps
Proper Nutrition
Athleticism
Power Development
Messias Souza Dos Santos
Goalkeeper Program Director