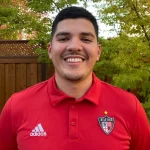 Director of Goalkeeping

Head Coach of the 2014/2015 Red Stars
Hello, My name is Omar Coronel. I am the current coach of 2014/2015 Red Stars, Assistant Coach of 2013 Rangers, Director of Goalkeeping and proud alumni of Atletico Santa Rosa. I started my youth career with Atletico Santa Rosa at the age of 10 and worked my way through until I graduated from Analy High School. In my time here, I was able to accomplish many athletic and academic accolades, which resulted in receiving a full-ride scholarship to a great university. None of this would have been possible without hardwork, grit and determination. But most importantly, without the help of my amazing coaches and mentors at Atletico. 
After playing all four years at some great institutions and concluding my athletic career, it felt just right to come back to the old stomping grounds. Since then, I have found great joy in coming back to Atletico with some new challenges and coaching a team of my own. I wish to provide great knowledge and experience to these young and very talented athletes in hopes to impact them as I was impacted by my previous coaches. I look forward to seeing you on the pitch and start working towards your goals and dreams together! Arriba el Atletico y Siempre Adelante.